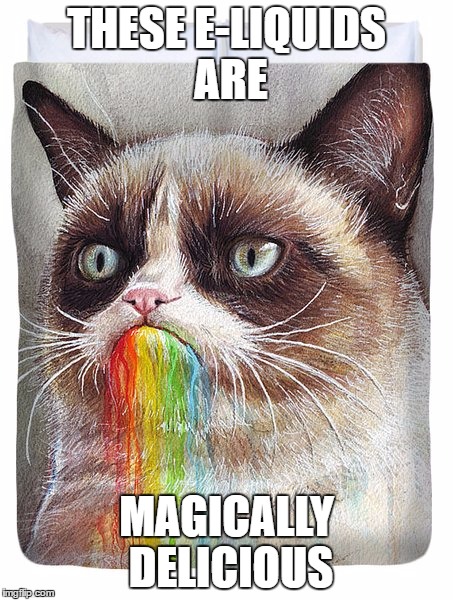 I was reading my old post on my favorite e-juices from last year and noticed I haven't vaped on any of those e-liquids in quite a while.
Since I made that post, I've come across other e-liquids which I thought were better tasting. You might notice some of them from my other posts since I like to talk about what I vape on occasionally.
If you're looking for new flavors to try, I highly recommend you try these out. I'll be providing links on where you can buy them from in case you want to .
I've been rotating around these flavors throughout this whole year and haven't gotten tired of any of them yet. So in no particular order, here are my favorite e-liquids for 2016.
---
Glazed Donuts by Loaded – This is the first doughnut flavored e-liquid I've ever tried and I was pretty surprised at how accurate they got the flavor.
Fresh Krispy Kreme glazed doughnuts right out of the conveyor belt, with a hint of cinnamon. That's what I'm tasting from this e-liquid. From the glaze to the doughnut.
Loaded did a good job with balancing the right sweetness to the glaze. It's sweet, but it's not too sweet that it overpowers the other flavors.
I don't like the taste of cinnamon when it comes to vaping, the flavoring is too strong for me. But again Loaded does a great job of putting the right amount of cinnamon in here, even a cinnamon-hater like me could learn to love it.
My only complaint about Glazed Donuts is it's on the fainter side in terms of flavor, especially compared to the other e-liquids on here. But hey, it's also really cheap e-juice and is definitely miles ahead in flavor when it comes to other e-liquids at the same price range.
---
Dewberry Cream by Kilo – This company does such a great job at getting that right balance in creamy flavor in my opinion. The flavor just pops in your mouth.
Dewberry Cream is dewberry, berry mix, and cream. Flavor is very well mixed and is strong. It actually tastes like dewberry yogurt with berries, very flavorful and refreshing. Just a very great tasting vape.
Some of the other e-liquids on this post have their little cons with me, but the Dewberry Cream is solid in all aspects of taste and flavor intensity. I could vape on this all day and night, all year long and still wouldn't get tired of this juice.
---
Dutchess by Sabor Vapors – This is another great tasting vape. The funny thing is I thought that I would never like Dutchess when I first came across it via Zamplebox.
"Pineapple? What the hell? That doesn't sound too good." I thought. I was expecting the pineapple flavor to taste like cough medicine as I imagined it would be hard to replicate the sweet tangy flavor of pineapple.
Sabor Vapors hit the pineapple flavor on the nose with Dutchess. The pineapple tastes syrupy and sweet like Hawaiian pineapples. You taste it right away on the inhale. Then a tarty taste blends in with the pineapple on the exhale. It tastes like a really good upside down pineapple cake.
This is another 24/7 vape that I love and would never get tired of vaping on. I highly recommend you try Dutchess out.
---
PopDeez by Steep – Steep Vapors is genius for designing its label and packaging after the iconic Cracker Jack brand.
PopDeez is one of my favorites because it tastes exactly what it says it is, it tastes just like caramel popcorn. I like some caramel popcorn every now and then, and PopDeez is a vape I know I am going to enjoy whenever I have some in my possession.
Only thing is I couldn't vape on this daily like I could with Dutchess and Dewberry Cream. And that's just me, I'm not a caramel popcorn lover. I like it, but I couldn't eat caramel popcorn everyday. But if you love caramel popcorn you'll enjoy PopDeez.
---
Unicorn Milk by Cuttwood – This is another great tasting e-juice I like to enjoy because its very flavorful and the blend is done wonderfully.
Unicorn Milk is strawberry milk and something else. That other ingredient is something I'm still trying to figure out but overall this is a great tasting flavored e-liquid.
The only problem for me is that it isn't sweet enough for my tastes. If they added a little bit more sweetness to Unicorn Milk, it would've been a perfect vape for me.
---
If any of these e-liquids sound appealing to you, I highly recommend you to try these out.