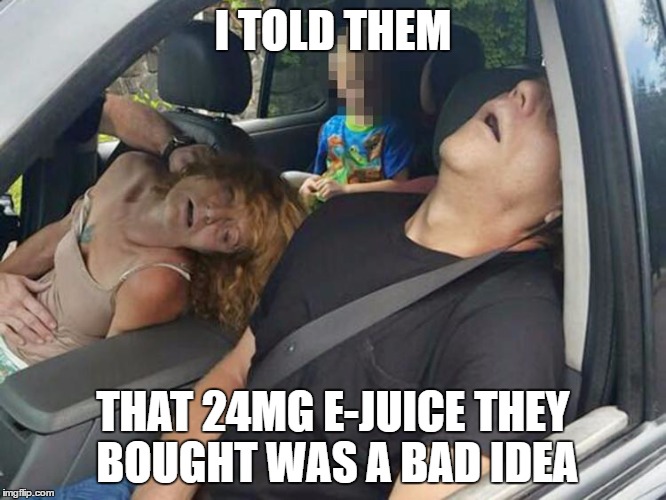 Are you a smoker who has finally decided to start vaping in the hopes to quit smoking?
If so, congratulations on making the right decision! Part of your new vape journey is trying different delicious e-liquid. Excited yet?
Here are some things you should know if its your first time buying e-liquid. First, choose an e-juice that sounds appealing to you. Don't hold back when it comes to finding a flavor you like.
4.) Start with a high VG juice
I would suggest you start with a pure VG mix of e-liquid. If you can't find pure VG, go with high VG e-juice like a 80/20 mix.
There are a number of people who are either allergic or experience irritation to PG. Starting with a high VG mix will prevent this from ever happening.
3.) Pick the right nicotine level
Nicotine provides that "kick" when you're vaping. Vaping on e-liquid at zero nic is like inhaling flavored air.
Knowing the different levels of nicotine
The easiest way I could explain nicotine levels to you is by comparing them to cigarettes. 3 mg nicotine equals to ultra lights. 6 mg is comparable to lights, while anything over 12 mg equals to straight tobacco cigarettes. Pick the level of nicotine in the e-liquid you plan on buying based on the type of cigarettes you usually buy.
What happens when you vape on too much nicotine?
The effects are the feeling of being light headed and also harshness at the throat when vaping. There is no way you could overdose on nicotine.
On the other hand if the nicotine level is too low the vape will feel empty and airy.
2.) Start with premium e-liquid
Premium e-juice might cost a little more, but there is a big difference in flavor when compared to cheaper counterparts. The better the e-liquid tastes, the more likely you are going to pick up vaping.
1.) Buy e-liquid at your local vape shop
The good thing about buying e-liquid at a vape shop is you get to sample it first before buying it. This is the best way to know you will like a certain juice or not before buying it.